Dia Draper to Focus on Diversity and Inclusion as New Director of Strategic Initiatives
Draper, a member of the MBA Program Office, has been tasked with continuing and strengthening her decade-long work on diversity at Tuck.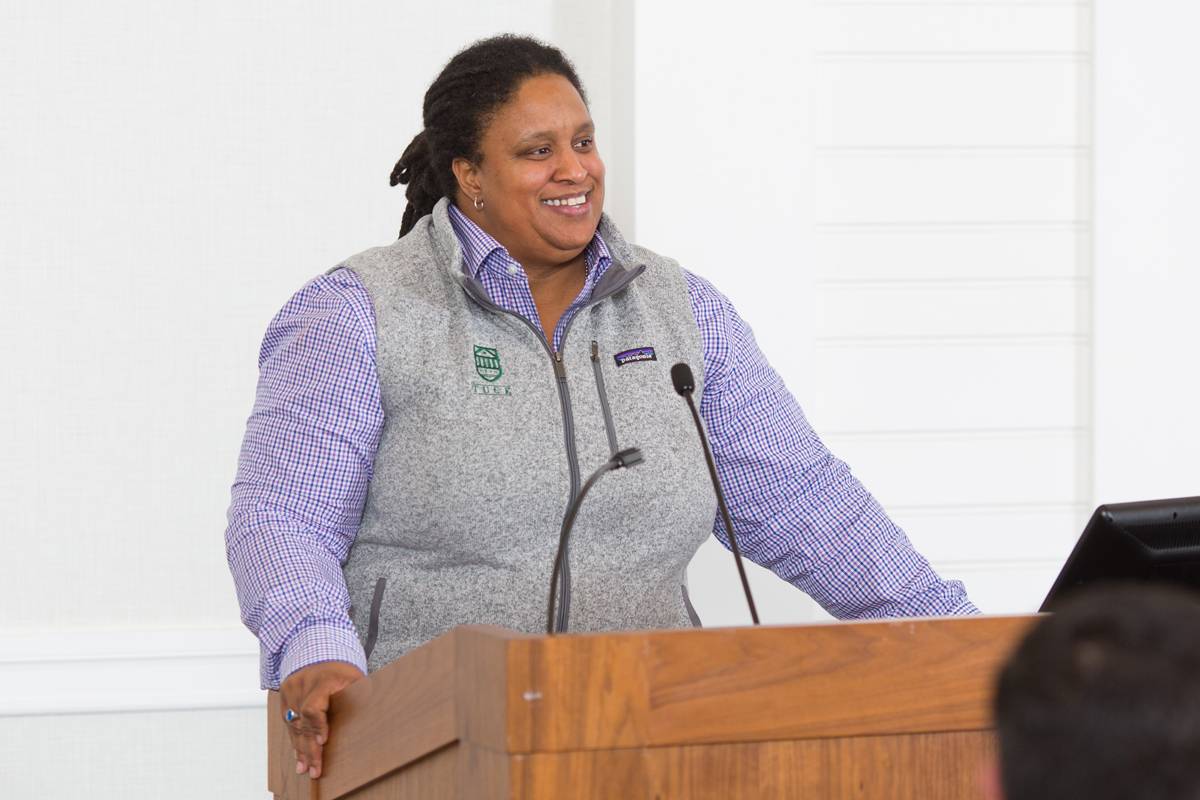 Draper, a member of the MBA Program Office, has been tasked with continuing and strengthening her decade-long work on diversity at Tuck.
On July 1 of last year, Matthew Slaughter officially began his duties as the Paul Danos Dean of the Tuck School of Business. At 4 p.m. that day, he met with Dia Draper, the assistant director of strategic initiatives who since 2006 has worked across a variety of platforms to support Tuck's efforts on issues of diversity and inclusion.
"I'm meeting with you on my first day as dean," Slaughter said to her, "because diversity and inclusion are that important. We've established a solid foundation under Paul Danos, and I understand you have some ideas on how we take this to the next level."
That was Slaughter's way of saying Draper was being promoted to director of strategic initiatives, a position that gives Draper more time and resources to further build a community that welcomes and nurtures diversity.
"I'd say that was one of the best moments of my career," Draper said, "and then to have the overwhelming warmth of the community saying, 'We're excited, we're with you, how can we help?' I don't think you could have a better setup."
Describe your new responsibilities as the director of strategic initiatives.
I'll get to leverage the best of the work that we do in admissions with diversity recruiting and the work we do in the MBA Program Office on the student affairs front with helping to support our diversity and inclusion efforts. I'll be bringing in some program coordinator and program management help so I'll be able to focus more on a strategic level around some of these issues so that I can take a pan-institution approach to our goals of making sure Tuck is as inclusive, healthy, vibrant, and welcoming as it can be.
So what that means more specifically is supporting all of our teams from admissions to our alumni affairs, helping each group by advocating for the tactical and strategic resources they need to achieve their goals in this area.
This is a new role at Tuck. What is that like?
One of the great things about Tuck is that it's very clear that diversity and inclusion are a part of everybody's job, so I don't feel that I am the diversity and inclusion person exclusively. It is a new role, but it'll be leveraging things we already do. I think we haven't had the opportunity to assess, document, and then evaluate all that we do. So my role as a liaison now to the Office of the President, Office of the Provost, and the Dean of the College is to make sure that President Hanlon's One Dartmouth vision moves toward implementation and fruition, and that Tuck is a part of those conversations. And then, conversely, to benchmark what they're doing and bring those things into the Tuck experience if they would be beneficial for our community.
What are you most excited about as you begin this higher level of work on diversity and inclusion?
I'm really excited about building relationships even more broadly across Tuck and Dartmouth on behalf of Tuck. I'm really excited to work with our leadership to understand their priorities, and that will inform how we go about this work and what we choose to do first.
In terms of program-specific things, I'm excited that we're able to have conversations about how we help the faculty leadership understand issues such as unconscious bias in search processes and selection committees as we look for more diverse candidates in the faculty. We want their pursuit of excellence to include a wide range of backgrounds and experiences. On the staff side, it's the same thing. I think there's an opportunity for the staff to get more training and insight around how do we foster this great community as leaders, where we encourage a culture of feedback. The third thing is getting to engage the alumni in a whole different way. They want to be involved, so how do we create the opportunities for them that match their interests and availability? I'm really excited to test if we can build some mentoring channels, and boost their involvement in the identification and recruitment of top talent, no matter the demographic.
What do you say to the prospective student who might be hesitant to consider a business school in a small town in New England?
The first thing I say is it's OK if this is not a fit. It's a big decision, and I'm a fan of going with your gut. You know what's best for you. But it's not OK to not take a peek and kick the tires. We think many people are pleasantly surprised when they get here, and we endeavor to make it easy for people to get here. If someone reaches out to us and needs a place to stay, we can make it happen. We go above and beyond to make it easy to engage with us, and I think that says something about who we are. So it's OK for this not to be the place for you, but you deserve the opportunity to make the best decision, and if you just write us off because of our location you might be missing a pot of gold.
You gave a speech on "The Power of Perspective" at TEDx Charlottesville. How did the Tuck community help you prepare for that?
My colleagues were incredibly supportive and they knew it would require some time off of work, or using some time during work to get some coaching. The Office of Digital Education immediately stepped forward to record my practice sessions so that I could review, evaluate, and improve. My team here in the MBAPO were my test audience and gave me good, honest, and actionable feedback. I knew I was going to need some coaching help, and both of our Management Communications professors were instrumental in helping me craft a message and deliver the talk to the high standards expected of the TEDx presentations.
Do you think the experience of preparing for and delivering a TEDx talk made you better at your job?
Part of what we do in the MBAPO and across the school is be staff and faculty leaders: students look to us when they're having tough times or struggling to make decisions around courses or jobs. And in the moment of deciding whether or not to do this thing that was pretty scary, putting myself out there and being vulnerable, what tipped me over the edge was knowing that I would have a really hard time telling a Tuck student to take risks, or step outside of their comfort zone, if I couldn't do it myself. So on a base level it really called me to the carpet on what I believe and made me really think about it. I consider it an honor that the students do trust me and I wanted to be able to look them in the eye and say those things that young leaders need to hear.
Watch "The Power of Perspective" by Dia Draper at TEDx in November, 2015.