During the sticky days of summer, employees slowly began returning to the office at Steelcase, the largest office furniture company in the world.
Many couldn't wait to see their co-workers again in person after more than a year of working at home during the pandemic with endless hours of video-conferencing, makeshift desks in closets, and spotty WiFi connections.
"We're very early in the process, but it's just so great to be back in the office," says Sara Armbruster T'99, who was recently named CEO of the Grand Rapids, MI, company. "There's just such a buzz in the office. It's like the first day of school. It's been really, really exciting."
As Steelcase and other companies around the world prepare to bring back their employees, many are in the midst of rethinking what work should look like post-pandemic. There's certainly plenty to consider. Inclusion and diversity matter more than ever, a trend certainly amplified by the pandemic. Research from McKinsey shows that diverse employees struggled the most during the pandemic, especially in terms of their mental health. Businesses are responding in a variety of ways: by sponsoring employee network groups, creating more corporate board diversity, and by choosing to work with more diverse suppliers.
Other topics that are top of mind range from hybrid working arrangements to workspace design, so that people can collaborate face-to-face safely and efficiently.
"Everybody is struggling with a new set of issues that we've never tackled before," says Armbruster. "People are trying to figure out—how do we come back in new ways that are better?"
Many companies are turning to technology for the answer. For some, that includes the adoption of artificial intelligence to automate less important tasks so that employees can spend their time doing more meaningful work. In fact, a global survey of 800 senior executives conducted by McKinsey in July 2020 found that two-thirds of respondents planned to step up their investment in automation and AI. Warehouses, grocery stores, call centers, and manufacturing plants all relied on AI during the pandemic to reduce workplace density and cope with surges in demand. And with e-commerce in 2020 growing at a rate two to five times faster than it did between 2015 and 2019, the pandemic clearly accelerated the shift to digital.
As the business world grappled with the challenges of the pandemic, Tuck faculty members studied its immediate and long-term effects from a variety of perspectives. Their pandemic-related research topics included international trade, housing, COVID-19 transmission in stores, the politics of risk assessment, how to lead during a crisis, and much more.
Steelcase also conducted its own research and published its findings in the report, "Changing Expectations and the Future of Work." The company surveyed over 30,000 people around the globe about their preferences and what they're now looking for in a post-pandemic workplace. One important finding: Most organizations plan to implement a hybrid approach, with employees working partly at home and partly at the office.
"I think what we're going to see following COVID is that after spending time working at home, people generally expect to still have that flexibility," she says. "Since people have been at home, they have, I think, an increased expectation of their employers and their workplaces and what that experience can deliver, and they desire something that's dramatically different and better than the experience they left."
As devastating as the pandemic was, it certainly served as a catalyst for change—at Tuck and the many companies around the world where alumni work. For the first time ever, Tuck's workforce went completely remote, and MBA courses were delivered through a hybrid format. Many companies, such as Amazon, that couldn't welcome new employees to the office turned to remote onboarding and found that doing so had plenty of benefits. Important business meetings were held on Zoom and were just as effective as gathering in person, which means that going forward, we might be traveling less for work. In fact, McKinsey estimates that about 20 percent of business travel may not return in the coming years.
However, while some predicted the end of the office at the start of the pandemic, research conducted by Steelcase indicates that there is still very much a place for the office. As such, many companies are exploring how they can invest in their buildings to create safe, collaborative spaces. Others are using the pandemic as an opportunity to re-examine their commitment to sustainability and how the office plays into that, whether it's by using sensors or other energy-efficient technologies.
Below we present the Future of Work from the viewpoints of Tuck faculty as well as our alumni who work at the forefront of tech, venture capital, consulting, retail, and finance. For the faculty, the future of work will include deep questions about the purpose of collaboration, the importance of accessibility, and the new industrial revolution. Alumni, meanwhile, are finding new workplace solutions with open-air tents, furniture on wheels, drones that improve workplace safety, quantum computing, AI-backed employee training platforms, and virtual onboardings. And they are not only advancing DEI, but embedding it into the core mission and foundation of their business.
No matter the industry, the future of work will look nothing like it used to. Read on for predictions on a post-pandemic business world.T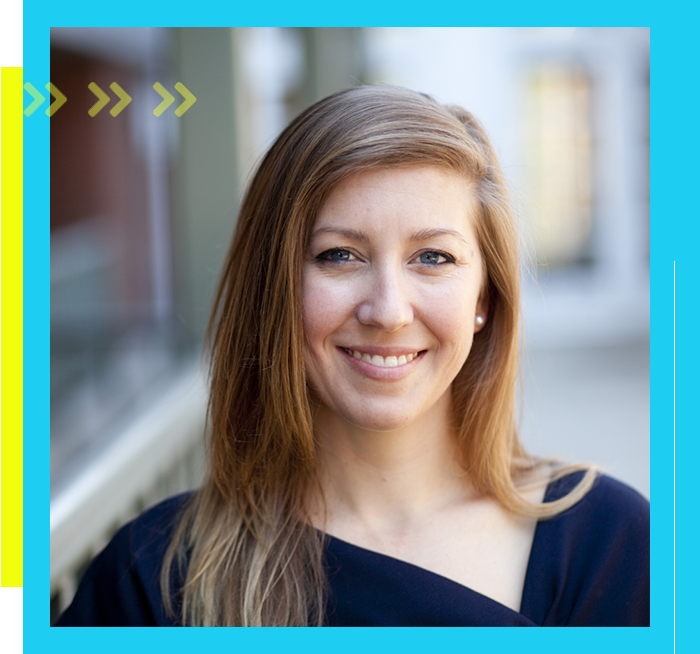 T'14
Kiera Jones
Associate Director of Learning, McKinsey
Prediction
Continuous learning to thrive in a tech-enabled world.
"Technology like AI, automation and robotics is creating significant shifts across all industries. people and organizations are evolving to figure out how to best harness and work with these technologies. Over time, there will likely be some jobs that will no longer exist, jobs that are created that are totally new, and tons of jobs that see some kind of substantial change in the way that they work."
As associate director of learning with McKinsey Digital, Kiera Jones T'14 and her team spend their days helping cultivate the tech acumen and skills of her colleagues. It's a natural fit for Jones, who has a passion for capability building.
"I work in this space because I feel very passionately about ongoing learning throughout your career," Jones says. "And I think organizations should help take a lead on intentional learning to empower their workforces, making it a part of their culture. I see technology as one of the most challenging and critical areas for people to build skills today – and one that necessitates continuous learning since it is always changing."
As tech continues to evolve at a breakneck pace, Jones works on building and advancing skills in areas such as cloud, advanced analytics, and AI. The pandemic, she says, definitely sped up adoption of all technologies and, in some cases, the exploration of potential "next big things" like quantum computing.
"A lot of organizations had to rapidly shift," she says. "Companies that were maybe going to transform their core technology, build better e-commerce, or test how to apply AI over the course of years had to do it straight away when the pandemic hit to stay relevant."
Jones joined McKinsey as a consultant after graduating from Tuck and now leads a team that develops and curates learning experiences for her McKinsey colleagues who are increasingly working with technology across industries. A mining company, for example, used advanced analytics to make sense of large amounts of data to identify and test operational changes, which led to a massive increase in throughput. In another case, McKinsey helped Emirates Team New Zealand on the road to winning the latest America's Cup with the help of an AI bot that allowed them to rapidly test their hydrofoil designs.
Though it seems like opportunities are only limited by one's imagination, Jones says that how companies and people are able to use technology effectively is just as critical for success as the tech itself.
"Whether it's AI, advanced analytics, automation or robotics, companies need to think about why they should bring in the technology and what they need to make it successful. You can spend a lot of money, time and energy on something that seems exciting but isn't necessarily doing what you want it to do or have the transformational change you hope would happen," Jones says. "It's really about figuring out what's right for your organization and then investing in both the technology and the skillset of your people. After all, it is people who design, use, and make the most of that technology day in and day out."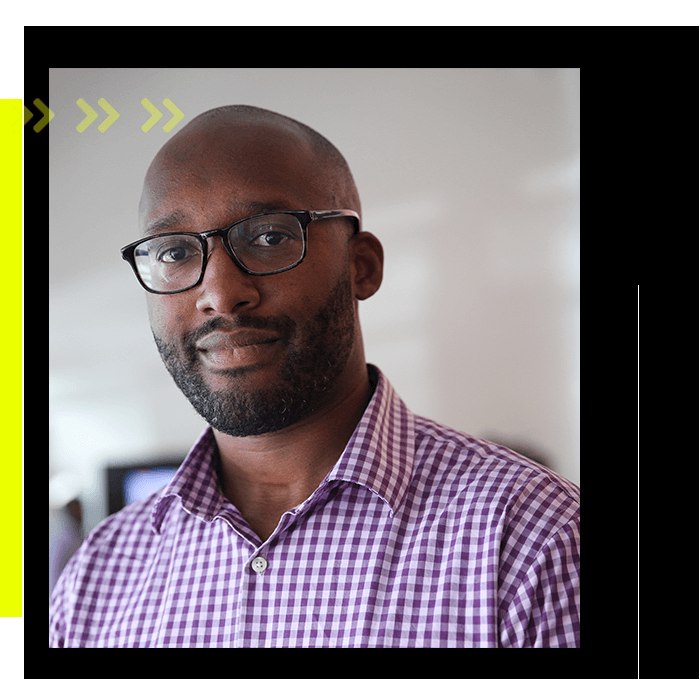 T'05
Craig Dixon
Principal Product Manager, Amazon
Prediction
Remote onboarding that allows new employees to learn at their own pace.
"For some companies, virtual onboarding makes more sense. People are able to learn at a pace that's more comfortable for them, as opposed to a one- or two-day general onboarding session.
Onboarding as we knew it may be a thing of the past. When Craig Dixon T'05 needed to onboard new hires at Amazon during the pandemic, he and his team had to rethink the entire process since no one could gather in person. New hires were shipped laptops to their homes so that they could participate in virtual trainings. Dixon says it was a huge success for many reasons.
"In the past when we had to onboard a new team member, they would have to fly to a location and do their training in person," says Dixon, who currently works as a principal product manager at Amazon, where he's helping the tech company's employees get access to COVID-19 testing. "Now, you can onboard anyone, any day by sending laptops to them and getting them set up with the equipment they need."
Dixon, who is passionate about technology and education, earned his undergraduate degree in computer science from Boston University. He has since taken roles with PayPal, Blackboard, and The Chronicle of Higher Education, started two tech companies, and worked on the AWS Educate team at Amazon, helping faculty and students around the world learn about cloud computing.
From a learning perspective, Dixon says that remote onboarding has plenty of advantages.
"People are able to learn at a pace that's more comfortable for them, as opposed to a one- or two-day general onboarding session," says Dixon, who also teaches computer science as an adjunct professor at the University of Maryland. "The ability for someone to come in and join the organization and learn at their own pace yields better results over time."
Having worked on the AWS Educate team, Dixon acknowledged that in some ways, COVID upended life in the classroom for the better, with helpful webinars, online instructional videos and one-on-one office hours on Zoom.
"One of the things that the pandemic did was remind schools and teachers that people learn different ways and that there is more than one way to accomplish the goal of teaching," he said. "And being able to scale what we've learned as folks start coming back into the building is going to be pretty helpful."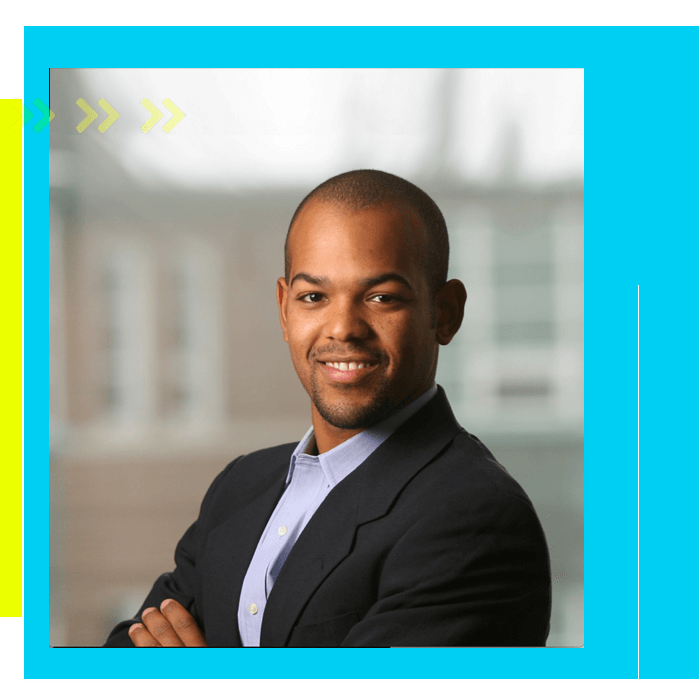 T'07
Jacques-Philippe Piverger
Co-founder and managing partner, Ozone X Ventures
Prediction
Say hello to tomorrow's hottest companies: mission-driven tech companies
"Historically, the argument has been, 'We can't find the diverse founders, and they're not thinking expansively enough.' But the data say otherwise. Yes, women, black, latinx, and asian founders get less capital, but when they do attract investment, they return more money, and they return it quicker."
As an owner of Ozone X, a venture capital firm that invests in businesses founded by Black, Latinx, Asian, and female entrepreneurs, Jacques-Philippe Piverger T'07 is empowering entrepreneurs at tomorrow's hottest companies.
Ozone X's target demographic represents more than 65 percent of the population, but Black, Latinx, Asian and women entrepreneurs only receive less than 6% of capital from venture firms.
"When you think about the future of business and the types of jobs that are being created, having input from different societies and cultures is more representative of the actual challenges and ideas that people currently have," Piverger says. "Historically, the argument has been, 'We can't find the founders, and they're not creating appropriate solutions for big challenges. But the data says something totally different. Yes, they get less capital, but when they do get capital, they return more money, and they return quicker."
Ozone X leverages an AI-powered network of experts to identify high-potential, early-stage companies. Doing so dramatically reduces the human bias inherent in investment decision making, a strategy that Piverger sees becoming prevalent in the future.
The companies that Piverger and his fellow founders invest in will create jobs that we or even our children might have. He sees plenty of opportunities in sustainability, health and wellness, education, and fintech, to name a few.
Piverger's interest in sustainability and making an impact in the world runs deep, having co-founded MPOWERD, a solar products company. While at Tuck, Piverger cofounded a nonprofit called The Council of Urban Professionals, which focused on empowering women and underrepresented individuals to more fully realize their professional potential. He was also a research fellow at the Center for Private Equity and Entrepreneurship, where he studied developed-market distressed investing and private equity opportunities in South Africa.
Piverger loves being at the forefront of solution-based technology. Ozone X has invested in companies that use artificial intelligence and the internet of things to help prevent and remediate wildfires and in companies that make smart engines for electric vehicles.
"We're focusing on what we consider to be real needs," Piverger says. "Even in the last year, when we've been in quarantine, wildfires have not decreased. People are still going to be using motors and engines irrespectively. It's really exciting for me to be backing businesses that are creating solutions for the significant challenges of our time."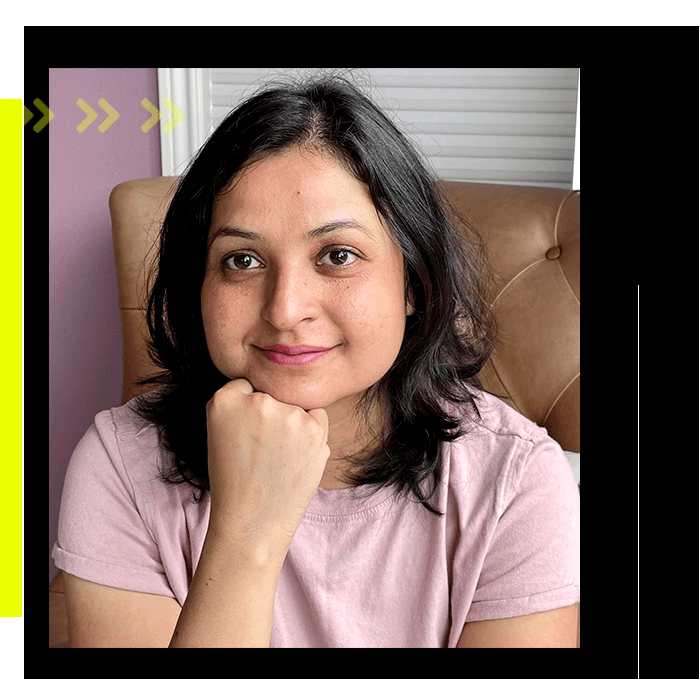 T'07
SMITA SHRIVASTAVA
AI and Innovation at Microsoft
Prediction
AI-enhanced solutions, from manufacturing facilities to the great outdoors
"In the future, AI will be far more commonplace. What we already use in our everyday lives such as in our phones and in our cars will improve in quality and relevance, and I think we'll see it expand more into critical sectors such as manufacturing and medicine."
Smita Shrivastava T'07 spends her days at Microsoft surrounded by some of the most futuristic technologies you can possibly think of. As someone who specializes in artificial intelligence and innovation, Shrivastava is behind one-of-a-kind inventions that will be commonplace to many of us five years from now.
So far, her projects have included using artificial intelligence to produce perfectly crispy Cheetos for PepsiCo., where AI was used to monitor and adjust the equipment that manufactures the popular snack to help improve product consistency and free up valuable time for machine operators.
"Using AI means that the operators don't have to come in and check the quality as often, so they can use their time and creativity on other projects," Shrivastava says.
Autonomous agents like drones are another technology that Shrivastava thinks will be used far more often in the future to improve the work we do, whether that's firefighters using them to monitor wildfires or EMTs employing them during hazardous search and rescue operations.
"There's a lot of situations where you can't send a first responder because it's unsafe for them, but a drone can easily go out and do that," Shrivastava says.
In her current role at Microsoft, where she has been for six years, she works with customers to understand their challenges, brainstorms how technology can help solve them, and then helps bring those technologies to market.
"If I understand their pain points enough, and I understand what innovation can do, I'm able to help bridge the gap," she says.
In the future, Shrivastava thinks AI will permeate more areas of the office to make our jobs easier. In her own work, Shrivastava spends a lot of her time talking to engineers, researchers, and customers about projects, and to save herself some time, she relies on AI-based transcription service in Microsoft Teams to transcribe her interviews. It might sound like a small thing, but the value it provides is immeasurable.
"All of these things make your life easier and make you much more productive at work," she says. "They remove the repetitive tasks that you aren't interested in doing, and I see that as having a big value."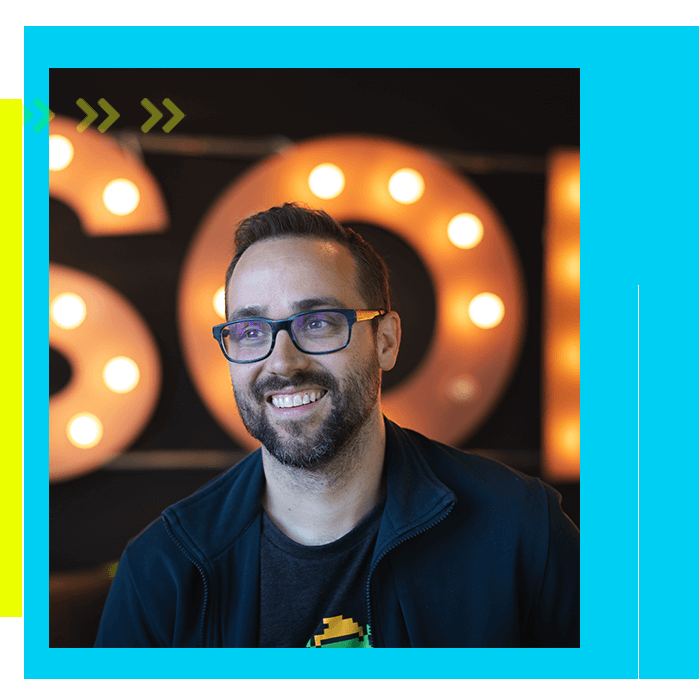 T'13
Brent Dance
Director, Global Gaming, Google Customer Solutions
Prediction
Game-based learning and high-tech video experiences to keep employees engaged
"I think you'll see more investment in making video conferencing feel more lifelike—and maybe even more game-like—so that people feel more connected to each other, no matter where they work."
Many of us suffered from Zoom fatigue during the pandemic from staring at our computer screens all day. But in the future, Brent Dance T'13 thinks that companies will double down on investing in video capabilities as more of the American workforce migrates to a hybrid working environment. Doing so will help even the playing field between remote and onsite employees.
"When you're in person you can read emotions easier and send signals to other people with your body language, but it's hard to read a room when you're in a video conference with 10 or 15 people," says Dance, director of global gaming with Google Customer Solutions. "I think there will be more investment in making video as immersive as possible so that it feels more like real life. I would love to be able to feel like I'm in the same room as my colleague sitting halfway across the world and I think we are getting there. Recent innovations such as Project Starline, are moving us closer."
Dance, who currently lives in Dublin, began his career at Google nine years ago as an intern when he was a student at Tuck. Since then, he's taken roles with the company across sales, strategy, and operations as well as in Google's mobile app business. When Google decided to expand its presence in gaming, Dance jumped on the opportunity to take a lead role in building out the company's gaming team and even move to its fast-growing EMEA region.
Dance's gaming team operates much like a consultancy to its customers, a natural throwback, in some ways, to Dance's time working at Deloitte. As the gaming industry continues to become more automated, Dance and his team are stepping in to help gaming studios become stronger competitors by learning and investing in new skillsets, such as predictive modeling and user experience. As a gaming enthusiast and expert, Dance thinks that more of the work we do in the future will become gamified. In fact, companies that become more game-like in areas such as learning and development have seen an uptick in employee engagement and retention.
"I think companies should gamify their training programs and wellbeing programs (e.g. celebrating people who take most of their days off). This makes employees feel more appreciated and engaged," Dance says. "If you think about gaming at its core, it's making something more entertaining and rewarding, and this can be applicable across every discipline and subject matter."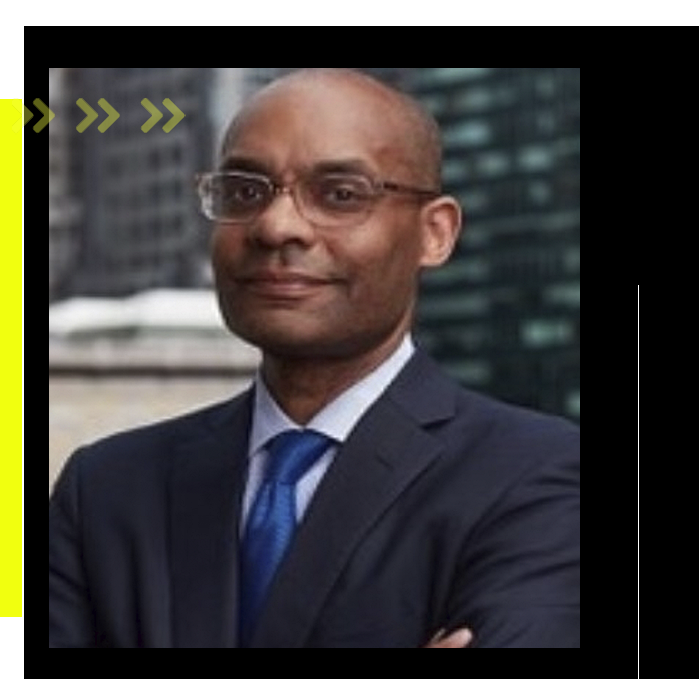 T'97
Robert Gulliver
Head of HR, U.S. Businesses at Prudential Financial
Prediction
Hybrid workplaces—the new 9-to-5
"The days of having everybody go into a workplace five days a week, Monday through Friday, are simply not going to return post-pandemic."
In April, Prudential Financial conducted a "Pulse of the American Worker Survey." It showed that 87 percent of Americans prefer to work remotely at least one day a week post-pandemic.
"I think that this tells us it will be increasingly important for companies to continue listening to the workforce and to keep finding ways to provide them with flexibility," says Robert Gulliver T'97, who heads HR at Prudential.
Gulliver has worked in human resources for more than 25 years in positions that include Chief HR officer of the National Football League and executive vice president of human resources at Wells Fargo.
Throughout his career, Gulliver has advocated for diversity and inclusion in the workplace, a priority that is also top of mind for Prudential. The company's bespoke Inclusion Council—comprised of C-suite leaders and members of underrepresented employee groups—meets every quarter to discuss how to create a better working environment for all people, something that all companies should be focusing on right now.
"Organizations are going to need to continue to embrace inclusion and diversity so that they're welcoming environments for all workers and all employees," Gulliver says.
In addition to diversity, companies will also have to consider the role that technology is playing in the workplace, especially as it relates to hiring. As someone who has deep experience in HR and talent management, Gulliver has been amazed at how quickly technology has transformed the hiring process.
"As the parent of a young adult, it's been pretty amazing to see how different the process is now versus not that long ago," says Gulliver. Gone are the days of sending out dozens of resumes and cover letters to target companies. That's all been replaced by having an updated LinkedIn profile and using the Handshake app to find opportunities in the marketplace.
Learning and development is another area where Gulliver sees technology having a big impact in the future of work. Prudential's bespoke training and mobility platform, Skills Accelerator, for example, uses artificial intelligence to match employees with educational opportunities and internal career openings. It's been especially popular in the COVID-19 remote work environment; since the start of the pandemic, its use among employees has doubled.
"Technology is going to bring a lot to bear," Gulliver says. "We're going to see more tech-enabled development programs, and organizations are going to have to be adaptable as new technology and new tools transform how we perform our work."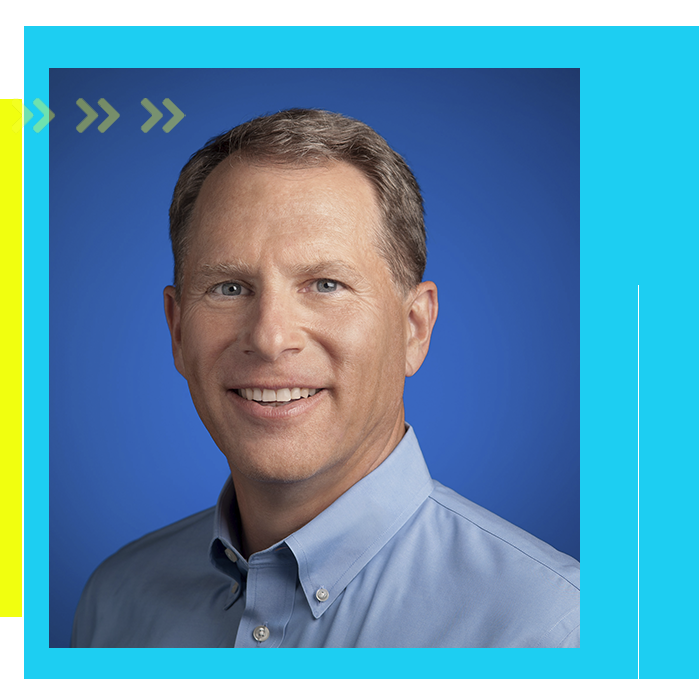 T'87
Mark Golan
Vice President of Real Estate Investments, Google
Prediction
Timber-constructed office buildings equipped with sensors for maximum energy efficiency
"When you think about a company's carbon footprint, steel and concrete are horrible in terms of the amount of carbon necessary to produce them. But you can now build buildings out of mass timber and use it as a replacement for steel."
Mark Golan T'87 is at the center of one of the most important conversations that companies are currently having: How can we design our office buildings so that they are energy efficient and make the most of our natural resources?
As someone who has spent the bulk of his career at the intersection of technology and real estate, Golan knows a thing or two about creating smart, energy-efficient workspaces. Golan's previous positions include Senior Director at Sun Microsystems, Global Vice President of Workplace Resources at Cisco, CEO of Adura Technologies, and the America's head of Johnson Controls' facilities management business. He also worked in investment banking and was a senior executive at three startups along the way, two of which were in real estate-related technologies.
In terms of building structure, Golan says an emerging trend is the use of mass timber (short for "massive timber") and cross-laminated timber beams as a replacement for steel and concrete, which have a profound effect on a building's carbon footprint when used in construction. Mass timber involves culling together pieces of soft wood from trees (such as pine, spruce and ash) so they can be used to form larger pieces used in building.
"Traditionally, timber was used in low-rise buildings or in single-family homes, but we're now seeing it being used in mid-rise construction projects and in buildings that are at least 15 stories," Golan says. Plus, there's an added bonus: "Wood sequesters carbon rather than creates it," which means that it can help decarbonize the building sector.
Inside office buildings, Golan says that sensors are being used to make spaces more energy-efficient. They can monitor temperature and the number of people in a certain room or area and then adjust the heating and cooling settings as necessary. If a building is empty, for example, there's no need to run systems at maximum capacity.
"A sensor can give you information on whether spaces and rooms are occupied and tell you how many people are in them," Golan says. Having this information means that you can adjust airflow through the ceiling, which can have a "very substantial effect on the energy use in a building."
Sensors can even be used to gauge how bright the sunlight is on a given day and adjust the features of the room accordingly, such as window blinds. Even on cloudy days when the forecast is murky, algorithms can be used to decide the best course of action.
"Your eyes perceive natural sunlight very differently from artificial light, and if you can get it into a building, not only does it help in terms of energy usage, but it creates a much nicer environment for people," Golan says.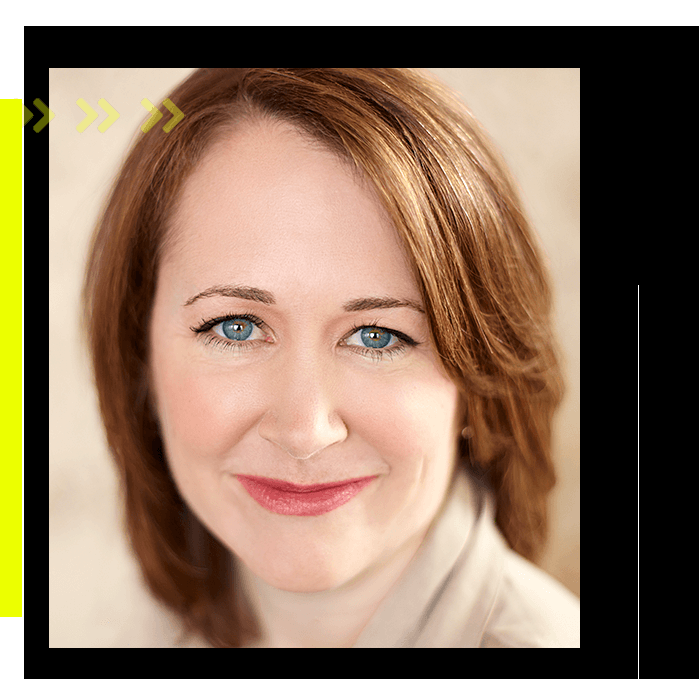 T'99
Sara Armbruster
President and Incoming CEO, Steelcase Inc.
Prediction
Flexible, tech-enabled furniture that allows us to move and innovate on the fly
"Workplace design and how we think about physical space to foster community is a really important part of the future."
Sarah Armbruster T'99 thinks after the pandemic, people will want flexibility in their working arrangements more than ever, not just in terms of where they work, but how they work. That's why Steelcase has designed whiteboards, digital displays and desks on casters, so employees can easily wheel it around into new configurations when inspiration strikes. The office furniture company, known for its forward-thinking, innovative design, also recently rolled out new versatile pod tents that can be popped up or down to give employees privacy when they need it.
"Office furniture is being designed for flexibility and mobility much more so than the historical kind of model of permanence," says Armbruster, who was recently named Steelcase executive vice president and future CEO. "Instead of permanent walls, flexible architectural elements can be reconfigured in different ways so, on the fly, we can be designing what's around us in a way that best suits our needs in the moment."
Knowing employees have been cooped up for over a year at home, Steelcase has also created more open spaces to foster social interaction and promote ideation and collaborative problem-solving. Oftentimes, this is how innovation happens, by running into a colleague in the hallway or in the office café.
"During the pandemic, people missed the serendipity of the office," says Armbruster.
In turn, the company will offer their employees enclosed spaces, such as pod tents and private phone booths, so they can have privacy and do individual work when they need to.
Solving these kinds of design challenges, all while thinking intentionally about the needs of the people who will be using them, is one part of Armbruster's job she loves the most.
"Every week I'm faced with a new challenge or an unfamiliar situation," Armbruster says. "Something comes up, and it's not necessarily something that I've experienced before, so I have to figure it out and find my way. And I think my experience at Tuck is where I first learned to do that."
After graduating from Tuck, Armbruster worked as a consultant with McKinsey, then took a position with Banta Corp., where she led strategy and business development. After that, she began working at Steelcase, and in her time at the company, she's served as vice president of strategy, research and digital transformation and led corporate strategy and acquisition activities. Her roles have also spanned product marketing, IT, global design research and new business initiatives.
Armbruster (who also happened to meet her husband, Rick T'99, at Tuck) credits the institution with giving her the education, skillset and confidence she needed to succeed in a wide variety of roles throughout her career.
"Tuck's general management curriculum provided me with a breadth of experience that has been valuable in helping me dive into different business opportunities or issues across many dimensions," says Armbruster. Even if at the start of a project or assignment, I didn't know the answer, I still had a toolkit to find my way through it."
That was certainly the case at the beginning of the pandemic when COVID hit, and many companies had to quickly pivot. Armbruster led the company's COVID global crisis response team and played a crucial role in conducting research that would bring a better understanding of the new perspectives and opinions that were emerging. While the full results appear in the company's report, "Changing Expectations and the Future of Work," one thing that came through loud and clear was the need for spaces that facilitate collaboration and connection.
"Isolation consistently was the single biggest thing that people said was the downside of working from home," says Armbruster.
In the future, Armbruster sees more interaction between tech and design, with smart devices that can tap into the working environment to collect data, then tailor experiences to our needs.
T'02
Caryn Nightengale
CFO, Wisk
Prediction
Increased empathy, flexibility, and expanded health and wellness benefits for employees
"We need to think about employees and their health and wellness more holistically than we have in the past."



To strategize what the future of work should look like at urban air mobility startup Wisk Aero, CFO Caryn Nightengale T'02 began by outlining the pros and cons of the pre- and post- pandemic workplace. From the outset, it was clear to Nightengale that merely "returning to normal" would not be an option.
"No employee is going to accept having a workplace environment of the past," she says. "From our experience, no one wants to simply revert back to the way things were."
One of the post-pandemic positives Nightengale identified was a growing recognition and empathy for everything happening in the background of employees' full-time work.
"You have much more compassion for someone's personal situation when you can see children running and dogs barking in the background of your video call," explains Nightengale. "I think the pandemic drove us all to understand each other's struggles in a way that we probably never could have before."
This window into the demands of work, family life, and personal obligations has prompted greater flexibility and additional mental health resources for Wisk employees. As a supplement to Wisk's Employee Assistance Program (EAP), they contracted with a vendor called Modern Health that provides workplace coaching as well as personal mental health and counseling services.
"We compared usage of the EAP with Modern Health and there really was no comparison. Modern Health was used so much more," says Nightengale. "We'll continue to offer that benefit."
The company also plans to continue the quarterly health and wellness allowance it provides employees to fund purchases, services, or activities that enhance their personal wellness. Applying the allowance is intentionally broad with some using it to help fund the purchase of a Peloton bike, or yoga classes, or even a massage.
Wisk has offered other benefits like paid pet insurance and a bring your pet to work policy that it plans to reinstate as well. Most importantly, they are encouraging managers to communicate more frequently with employees to get a better sense of their overall well-being.
"We can no longer be myopically focused on the time an employee is working at home or in the office," Nightengale says. "We need to think about employees and their health and wellness more holistically than we have in the past."
—Adam Sylvain
---
Read Insights from Tuck Faculty
---