The newest class of Tuck MBA candidates arrived in August with great enthusiasm, eager to start their business school journey and immerse themselves in Tuck's distinct learning environment. The class of 2025 is ambitious and engaged, ready to leverage the Tuck experience to advance their aspirations and better the world through business.
From a New York City Ballet dancer, to a National Security adviser, to a teacher of the year candidate, members of the 2025 class are high achievers who bring an immense amount of skill and knowledge to the classroom. T'25s come to Tuck from 261 unique employers, across myriad industries, having worked 69 months on average.
The class of 2025 also encompasses diverse and bountiful insight from beyond the workplace.
"With every Tuck class, we aspire to craft a robust collection of experiences, ideas, and goals," says Lawrence Mur'ray, executive director of admissions and financial aid. "The diversity of lived experiences represented within the class benefits not only the students, who will learn with and through each other, but the entire Tuck community."
The 2025 cohort is comprised of 297 students, 33 percent of whom are international, representing 40 distinct countries by citizenship and 35 by professional experience. Nineteen percent of the class are the first in their families to attend college, 10 percent identify as LGBTQ+, and—among U.S. students—32 percent represent a U.S. minority.
With its latest class, Tuck once again secures its place among the top business schools at enrolling women. For the 2023-2024 academic year, women comprise 44 percent of the first-year class, and 45 percent of the second-year class.
Academically accomplished, the class boasts an average GMAT of 726, sustaining the record set by the class of 2024, alongside high marks in the GRE (161 verbal, 161 quant), and an impressive average GPA of 3.49.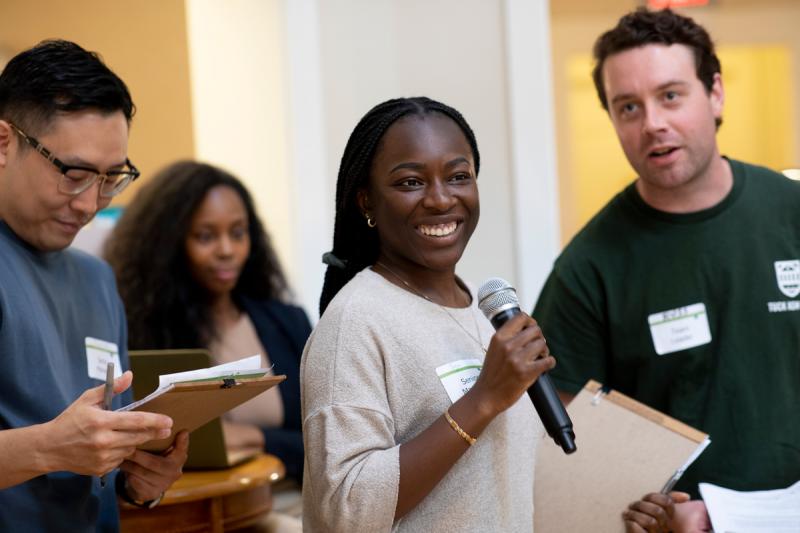 During Tuck Launch, Tuck's intensive two-week orientation program for incoming students, T'25s met their study group members for the first time, were introduced to Career Services and other MBA resources, and participated in reflective and rigorous experiential learning sessions like River of Life and The CEO Challenge—all meant to kickstart their MBA journey.
"The academic experience at Tuck is exceptionally rigorous and thoughtfully designed to develop wise, decisive leaders," says Mur'ray. "Tuck MBAs have the functional expertise needed to think strategically, know how to work effectively with others, and confidently understand when and how to take risks for the better.
"Our MBA candidates need to be prepared for a curriculum that will challenge them, allowing them to achieve meaningful growth as leaders. The class of 2025 has a proven track record of academic success, and we expect them to thrive at Tuck."
Learn more about the class of 2025 by visiting the online class profile.