As one of the most pressing issues of our time, climate change is understandably a top priority for many of the 2020 presidential candidates.
Just days before February's New Hampshire primary, students from Tuck and neighboring colleges and schools had the chance to ask the candidates firsthand about their clean energy and environmental policies and learned how they would directly address the problem at an inspiring and engaging town hall in Concord, N.H.
Joined by voting-age youth from Philips Exeter Academy, Hanover High School, Keene State College, and others, Tuck and Dartmouth students asked their climate-related questions to Amy Klobuchar, Deval Patrick, Pete Buttigieg, Bill Weld, Andrew Yang, and Tom Steyer, as well as to Varshini Prakash and Ayana Elizabeth Johnson, who attended as representatives of Bernie Sanders and Elizabeth Warren, respectively.
All candidates agreed that climate change is a pressing issue that affects everyone and needs to be addressed. Fossil fuels, renewables, carbon taxes, safe drinking water, and the Paris Agreement were just a few of the many topics covered by the candidates at the event, which was co-hosted by the Revers Center for Energy at Tuck, the Center for Business, Government and Society at Tuck, Stonyfield Organic, and the Hubbard Brook Research Foundation.
April Salas, executive director of the Revers Center for Energy at Tuck, delivered opening remarks at the event, reaffirming that businesses and organizations have "a leading role to play" in finding solutions to climate change.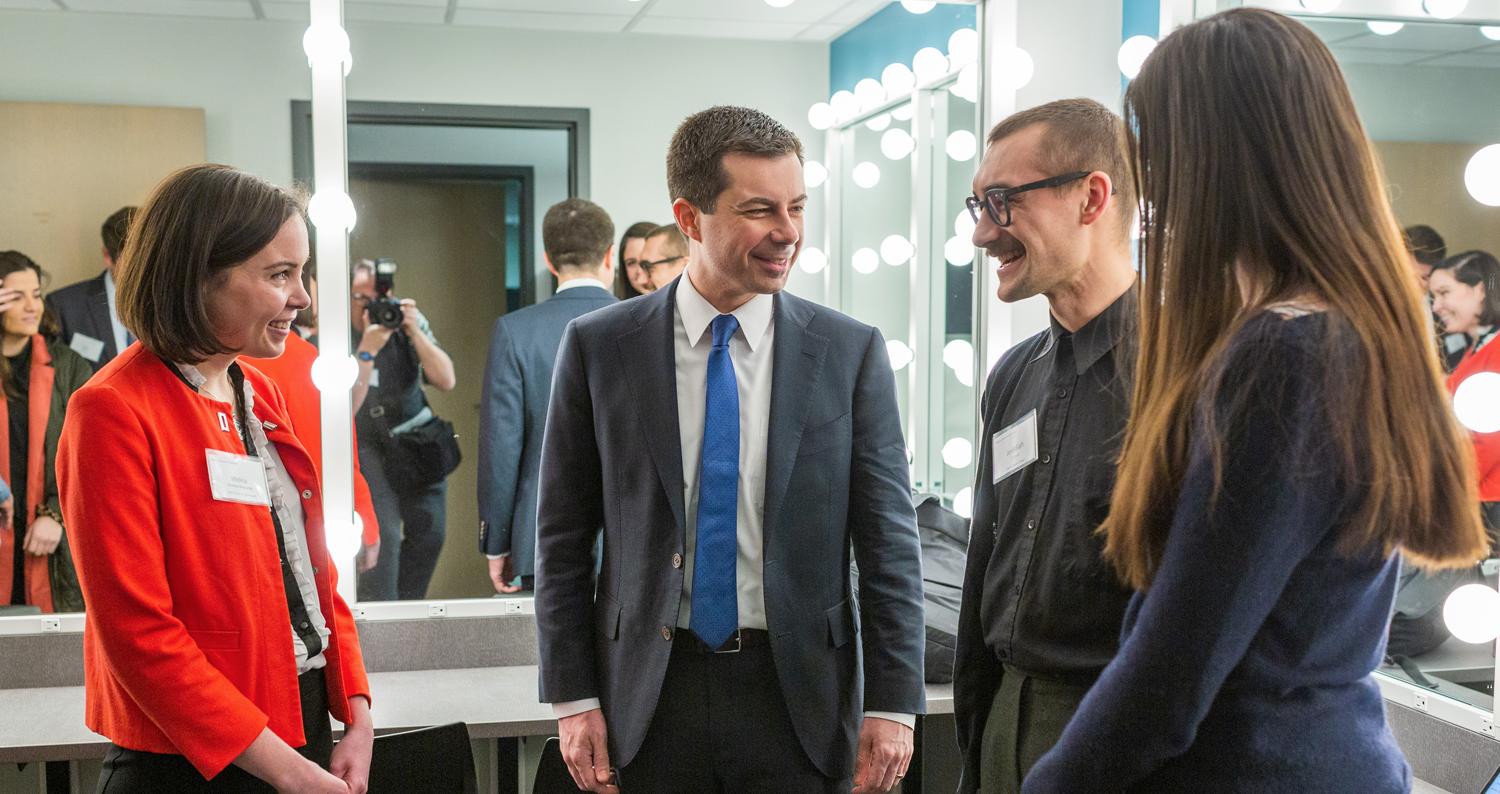 Melina Sanchez Montanes T'20 chats with presidential candidate Pete Buttigieg backstage.
"The risks posed by climate change are among the biggest challenges that our MBA students will face as business leaders," said Salas. "It is energizing to see young voters participating in this important dialogue and staying committed to finding solutions. We are proud to co-host this town hall as an additional way to amplify students' voices and help turn up the action on clean energy."
At Tuck, students have plenty of chances to explore energy, climate change, and sustainability over the course of their studies, including elective courses and off-campus experiential learning opportunities, such as the COP25 climate conference in Madrid.
Revers Center fellow Kevin Yuan T'20, who attended COP25 and plans to work on Nike's sustainability efforts after graduation, interviewed presidential candidates Amy Klobuchar and Deval Patrick, while Melina Sanchez Montanes T'20 asked Pete Buttigieg and Varshini Prakash (Bernie Sanders' representative) about their thoughts on nuclear energy and how to ensure that low-income households don't bear the economic burden of climate policies. Montanes has a career interest in sustainability and also attended the COP25 climate conference.
At Tuck, we are committed to empowering and equipping our students to address both the challenges and opportunities associated with the transition to a low carbon economy.
Alex Wood T'20, also a fellow with the Revers Center for Energy, asked questions about the best ways to transition to a clean energy economy. Wood has an environmental science background and is currently conducting research on how to reduce the environmental impact of retail products during their manufacturing lifecycle.
"It's amazing that our voices are being heard, and we've been given this platform to learn more about these candidates firsthand and how they view the climate change crisis," says Wood, who participated in a Morocco energy GIX (the country is investing heavily in renewables) and went to Hawaii in the fall with Revers Energy fellows to assess its transition strategy to renewable energy.
"Part of my motivation in participating in this event was that I'm still unsure of who I'm going to vote for," she says. "My hope is that, after hearing the candidates' responses to our questions and their potential solutions, I'll gain some clarity around who I will be supporting in the upcoming election."
John McKinley, who has launched new climate-themed programs at Tuck including a climate change GIX in Scandinavia as well as an ESG Ecosystem Deep Dive in New York City with sustainable investing executives at BlackRock and Morgan Stanley, said that the town hall was one of many opportunities for students to gain exposure to the challenges of climate change and learn about potential solutions.
"Climate change is among the most consequential issues facing businesses, governments and societies today," says, McKinley, executive director of Tuck's Center for Business, Government & Society. "At Tuck, we are committed to empowering and equipping our students to address both the challenges and opportunities associated with the transition to a low carbon economy. This town hall was an invigorating and inspiring example as Tuck students had the opportunity to directly engage U.S. presidential candidates on their climate change and clean energy policies."
More information on the event, including a replay, is available here.