When he was a seventh grader in North St. Paul, Minnesota, Jim Weber T'86 dreamed of becoming a professional hockey player. As a side gig, the 12-year-old Weber wanted to get an MBA and be the president of a company.
He held on to his hockey dream longer than most, playing at the hockey powerhouse high school Hill-Murray, and during his first year at St. Cloud State University. But, as he recounts in his recently published memoir Running with Purpose: How Brooks Outpaced Goliath Competitors to Lead the Pack (HarperCollins Leadership, 2022), "I had stopped growing, was one of the smallest players on the ice, and had not gotten any faster. It was pretty clear to me I was hitting a ceiling on my skills."
Still, Weber hadn't forgotten his other seventh-grade dream, so he transferred to the University of Minnesota and began to focus on a path that could land him at the top of a corporation. That turned out to be a very good decision. His journey led him to Tuck and later to leadership positions at brands such as Pillsbury, Coleman, O'Brien International, and Sims. Since 2001, Weber has been the CEO of Brooks Running, where he has led one of the most successful turnarounds in corporate history. When he took the helm of the company, it was mired in debt and at the bottom of a long list of higher-performing brands. Today, it's the leading performance running brand on the planet, a direct subsidiary of Warren Buffett's Berkshire Hathaway, and brings in more than $1 billion in annual sales.
This interview has been edited and condensed for clarity.
You're a busy CEO of a successful brand. Why take the time to write and publish a memoir?
I was trying to unpack why I am who I am. I had been leading a business, raising a family, running, and I felt like I needed to lift my head and get a broader perspective. So I took a month-long sabbatical in 2015 and spent four hours writing every morning. It was really more of an introspective exercise. As the years passed, I felt more compelled to chronicle the Brooks story, which I'm so proud of. It's a story of a turnaround, a competitive strategy puzzle, and the re-founding of a 90-year-old brand all in one. Then in early 2020, I had a meeting with Warren Buffett, and he said, "Jim, Brooks is a great story. You should write a book." That was the boost I needed, so I dove in.
If you're going to win as a team in a competitive category, you can't be average. That's where the team dynamic comes in. The foundation of a team is mutual respect. Without that, you never have trust. Without integrity, you never have trust.
One of the first business lessons you learned is that it takes good judgment to be an effective leader. What are some of your bedrock principles for making good decisions?
Typically, when you look three, five, or 10 years out, there are no answers, but there's a lot of data you can bring to bear on informing you and understanding trends. You must have a vision and a hypothesis of where the customer is going and what they want. There are many people who are so focused on data, but in most areas of strategic leadership of a brand or organization, the answers aren't going to come out of an algorithm; they must be assessed against options, opportunities, competitive moves, and changing consumer needs and wants. I find that good and informed judgment is more required than ever before, because the world is more dynamic, and full of uncontrollable disruptions that can impact your future. Tuck teaches you how to think analytically at an enterprise level, from an investor, CEO, or board member's point of view. That was so priceless for me.
When Warren Buffett was considering bringing in Brooks as a direct subsidiary of Berkshire Hathaway, he asked how Brooks competes with Nike. What did you say?
Warren was trying to understand if Brooks had a moat—a distinctive, defendable brand proposition. The answer is yes and it starts with an obsession on delivering fit, feel, and ride for the frequent runner. We're the only brand that is singularly focused on runners, and that's a huge advantage for us. But it's more than that—execution excellence, fantastic partners, company culture, the best talent, and a clear purpose all play into Brooks' moat.
You write that businesses and organizations have an opportunity today to build trust. How do you approach that goal?
For me as a leader, I've always felt that I must elicit peoples' support. I must create a center of gravity that people can attach themselves to, trust, feel part of, and willingly give their best. If you're going to win as a team in a competitive category, you can't be average. That's where the team dynamic comes in. The foundation of a team is mutual respect. Without that, you never have trust. Without integrity, you never have trust.
As you tell in the book, you were diagnosed with esophageal cancer in 2017 and underwent a successful treatment. How has surviving cancer changed your perspective on how to live?
What I've learned is it's even more important to enjoy the journey. You have to be in the moment with people and celebrate small successes. I also learned that I want to be a glass-half-full person, engaging on the most positive level I possibly can, because that's a good day, and life is about having as many good days as you can.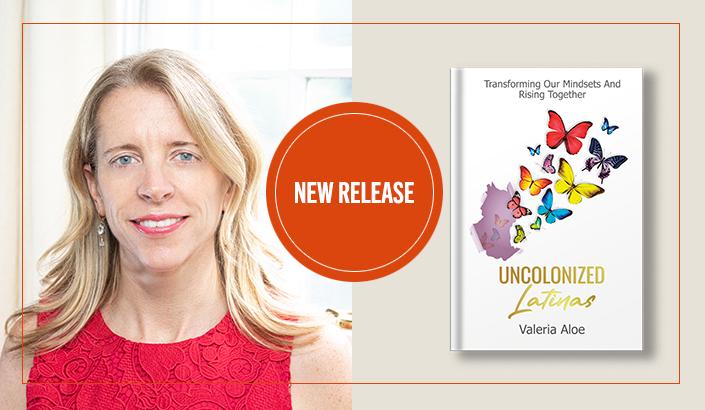 T'04 Valeria Aloe's Uncolonized Latinas: Transforming our Mindsets and Rising Together lays out an unprecedented, detailed map of the Latino mindset and what is holding the community back from achieving its highest potential. In this book we meet immigrant Latinas and daughters of immigrants who, through trials and tribulations, have uncolonized their limiting mindsets and have found success in their lives and careers.

This award-winning book guides readers to:
Understand the Latino cultural ways of thinking and behaviors that contribute to the existing leadership and wealth gaps.
Envision where the opportunities for the Latino community are, as this group increases its influence on US society and economy.
As a Latina, feel supported to thrive in your career and life from a place of self-esteem.
As an Ally, feel confident and become more effective when mentoring diverse talent.
To learn more about the Rising Together Movement, and about Valeria's speaking engagements and mindset transformation workshops, visit valeriaaloe.com.
"Aloe has written an inspiring book about something an entire community has known to be true, yet no one has ever given voice to. But no longer. With passion, empathy, and power, Uncolonized Latinas will not only open the eyes of Americans in general but will be pivotal in accelerating the transformation of Latinas to a place of influence, accomplishment, and respect."
—Sydney Finkelstein, Steven Roth Professor of Management; author, Superbosses; host, The Sydcast