According to medical doctor and sociologist Nicholas Christakis, the director of the Human Nature Lab at Yale University, "everywhere you see the spread of germs … you see right behind it the spread of lies."
When the COVID-19 pandemic took hold of the U.S. in early March, Tuck clinical professor and health policy expert Lindsey Leininger immediately began counteracting the confusion and misinformation that swirled just as insidiously as the virus itself. It wasn't a job she applied for; rather, she was drawn into the fray by friends and family who reached out to her for guidance on how to stay safe.
As it turned out, Leininger wasn't the only one providing evidence-based pandemic advice to her community. Public health scientists Malia Jones and Allison Buttenheim had just started an Instagram account for that very purpose, which they called "Dear Pandemic." A community member lovingly dubbed Jones and Buttenheim "those Nerdy Girls" and they soon invited Leininger to join them as a contributor to Dear Pandemic. "I eagerly accepted," Leininger says. The trio grew quickly into nine "Nerdy Girls" and expanded into Facebook, Twitter, and their own website. Today, there are 12 Nerdy Girl Ph.D.s and clinicians contributing to Dear Pandemic, which has more than 45,000 followers on Facebook, and the women appear frequently in stories by national and regional media outlets. As the CEO of the campaign, whose mission is to educate and empower people to successfully navigate pandemic life, Leininger does everything from the mundane operational tasks to finding new Nerdy Girls, sourcing and vetting scientific resources, finding and deepening partnerships, and participating in outside speaking engagements.
Having been out there educating the public through a pandemic, I feel pretty compelled to help others do so if the time comes again. My biggest professional goal post-pandemic is to train up the next generation of Nerdy Girls.
Leininger knows the very moment she began on her path to Dear Pandemic fame. When she was 15, she left her home in Dallas, Texas on a trip to Ecuador with Amigos de las Americas, a youth leadership organization that does community health work in Latin America. Her job was to help vaccinate cats and dogs against rabies. Two summers later, she built latrines in Mexico. During college, at Princeton, Leininger led more trips and studied Spanish. She knew she wanted to pursue public health, but didn't want to be a clinician. As an economics major, she discovered she had an aptitude for numbers and data. She married those interests in the Ph.D. health policy program at the University of Chicago Harris School of Public Policy, where she studied the Medicaid program.
For her dissertation, Leininger examined how health care policy impacted children. "I used survey data to identify the effects of public insurance expansions on children's access to health care," she explains. "I showed that by providing subsidized health care insurance options, children did indeed make use of it, and it increased their likelihood of getting well-child visits and having stable access to a primary care provider."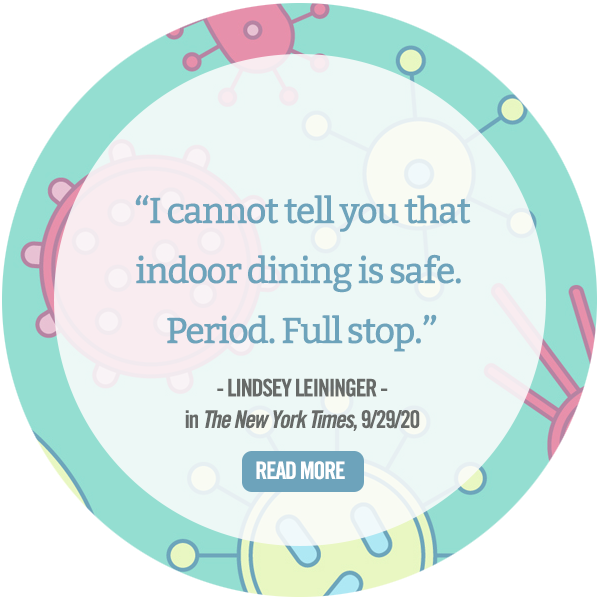 Once she saw the power of using data to drive decisions in health care policy and medicine, Leininger found her niche. It wouldn't be as a traditional academic, but instead as a translational researcher who could help mediate between the worlds of academic research and policy. This is evident in the roles she held after her Ph.D. and before joining Tuck. She designed and led projects for the Wisconsin Medicaid Agency for nearly seven years, taught evidence-based medicine at the University of Illinois-Chicago, helped design the curriculum for training the workforce that signed up people for Obamacare across Illinois, and was a senior health researcher at the thinktank Mathematica Policy Research. "I've always kept the thread of using data, evidence and education to empower policymakers and physicians to excel at data-driven leadership," she says. "I'm incredibly passionate about data literacy across the health care sector."
At Tuck, where Leininger has worked since 2018, she teaches a course in the Master of Health Care Delivery Science Program on leveraging data in decision making. In the MBA program, Leininger teaches Health Care Analytics and Society. Next year, Leininger hopes to teach a new mini course on the role of the private sector in public health issues and campaigns.
We will be very intentionally helping people feel better about the safety of vaccines.
Before the pandemic, Leininger probably would have been happy to continue her research into health systems and Medicaid. But not anymore. Instead, her experience with Dear Pandemic and seeing the national response to the crisis has pushed her to embark on a more urgent calling. "I have this feeling I need to spend the next decade helping to write the playbook for the next pandemic, with the hope that it's never needed," she says. "Having been out there educating the public through a pandemic, I feel pretty compelled to help others do so if the time comes again. My biggest professional goal post-pandemic is to train up the next generation of Nerdy Girls."
Meanwhile, Leininger's work with Dear Pandemic continues to consume her, as the world enters into its first winter with the virus, and as vaccines start to emerge. The next challenge on the horizon is educating around vaccine acceptance, since the success of a vaccine will hinge on its broad use throughout society. "Two of the Nerdy Girls are experts in that," Leininger says with her typical positivity. "We will be very intentionally helping people feel better about the safety of vaccines."