Oct 16, 2020
Three Things I Learned from Valerie Jarrett
By Liz Calby T'21
On September 30, the Tuck School of Business had the distinct honor to virtually host Valerie Jarrett, former senior advisor to President Barack Obama, in a conversation with Dean Matthew Slaughter. Before her time in the White House, Jarrett served as the CEO of the Habitat Company, chair of the Chicago Transit Board, and Chair of the Board of the Chicago Stock Exchange.
These experiences in both the public and private sector give Jarrett a distinct perspective that she was gracious enough to share with us. Here are a few things I took away from the conversation:
There is No "Right Path"
Jarrett's father used to tell her, "Sometimes, the shortest distance to where you really want to go means you have to be prepared to take the long way around." To me, these words serve as a reminder that there are many paths to get where you want to go; the road that has led each of us to Tuck is invariably different, as will be our journeys when we depart Hanover. Throughout each of our respective lives, there will be moments of unpredictability. When faced with the unknown future, Ms. Jarrett encouraged us to take risks, but to do so in a way where you feel purpose in your life and career. More importantly, she reminded us that "where you really want to go" can be a constantly evolving objective, shifting as you enter different phases and pass certain milestones.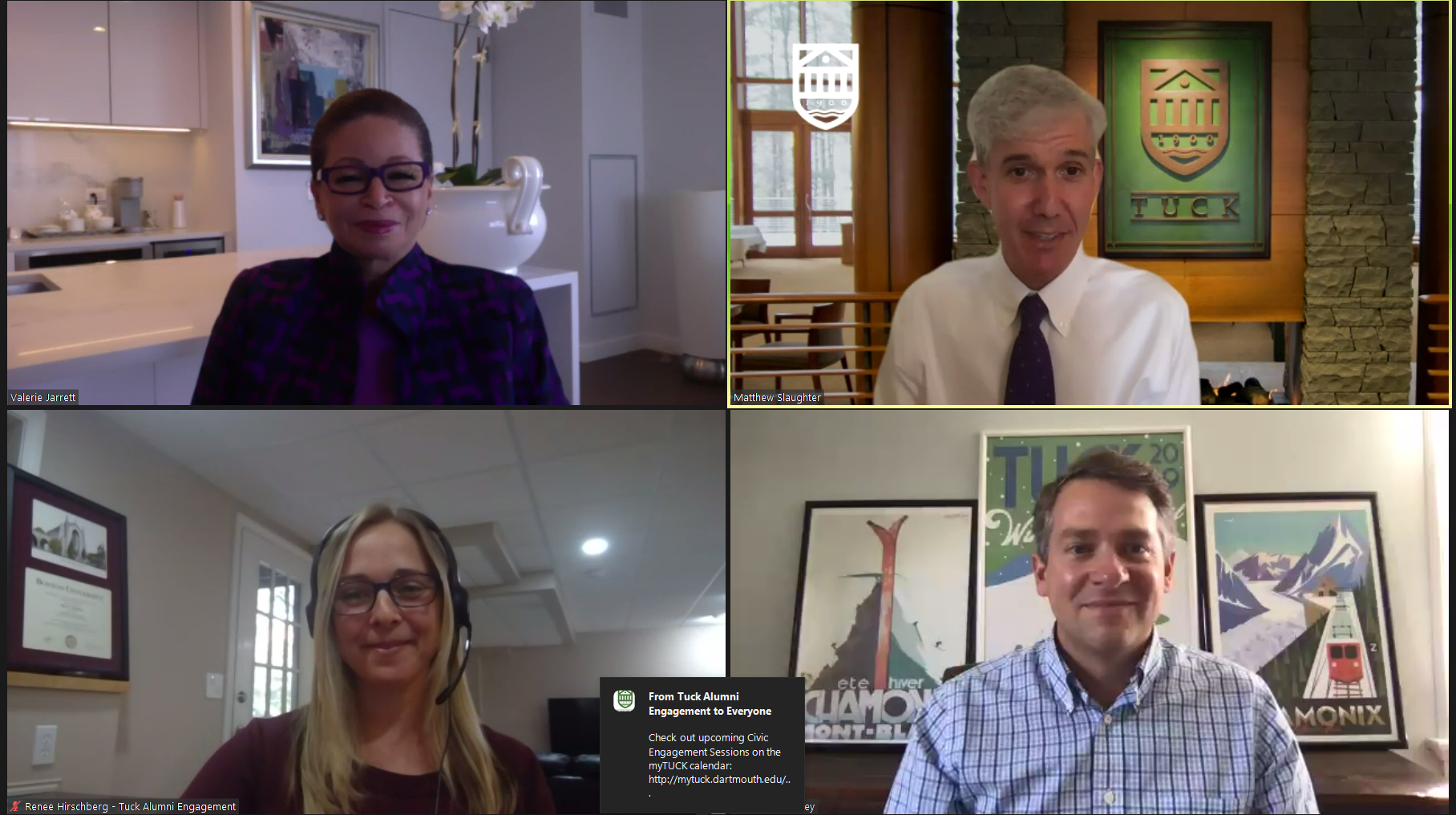 Pictured from top left: Valerie Jarrett; Tuck Dean Matthew Slaughter; Center for Business, Government & Society Executive Director John McKinley; and Alumni Engagement Director Renée Hirschberg
Tell Your Story
Throughout the conversation, Jarrett emphasized the need for vulnerable communication to engender trust and authentic connections with each other. She encouraged talking about the low points we have experienced because they are a critical part of who we are—not just the successes or final finished products. In that same spirit of candor and vulnerability, Jarrett told a story of legislating the Affordable Care Act in partnership with Congress, and her regret that they did not bring in outside voices to the process. I was struck by the duality of this example of leadership—communicating openly and honestly while listening constantly and freely. Here at Tuck, one of our most treasured and personal traditions is Tuck Talks, where our peers share their perspectives and stories with us. In keeping with Jarrett's experience, the beauty of this event lies in creating a communal space for stories to be shared—the speakers sharing openly with a thoughtfully engaged audience as equal participants.
Change Happens on the Ground
During the conversation, a Tuck alum asked how we move forward to solve some of the most pressing challenges facing our world today. Jarrett challenged us to feel empowered to make change one person at a time and hold ourselves accountable to the type of change that we want to see. She spoke of movements being started by ordinary people who decide that they can do extraordinary things. To create this enduring change, we must also build coalitions with unlikely partners and be willing to adapt our own mindsets. Ultimately, Jarrett communicated that each of us has a role to play, and intrinsic in that role is having tough conversations and listening closely to others, especially those with whom you may not agree.
Finally, I would be remiss if I did not mention that Jarrett's time since the White House has been committed to civic engagement, and she has created an organization in partnership with Michelle Obama to encourage voter participation. You can visit When We All Vote to check your voter registration status or register to vote!
---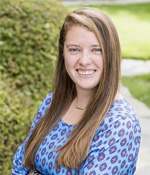 Liz Calby T'21 worked at GE Ventures in Menlo Park, CA before coming to Tuck and spent her internship in a marketing strategy role at Indigo Ag. At Tuck, she is a Fellow with the Center for Business, Government, and Society, a Leadership Fellow, a Wine Club Co-Chair and a Golf Club Co-Chair. She graduated from Dartmouth College with a major in Government and minor in Spanish.