May 11, 2023
Empowerment, Empathy, and Storytelling: Q&A with Author Sunakshi Wadhwa T'24
By Tuck Communications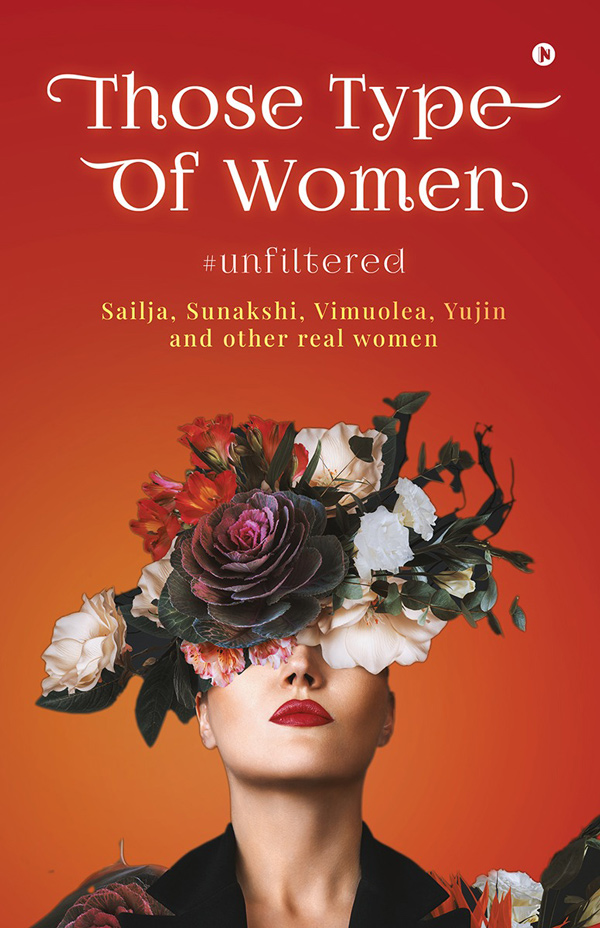 Sunakshi Wadhwa T'24 recently published Those Type of Women: a collection of original memoirs of diverse women navigating careers, love, sexuality, and beauty standards. Wadhwa's goal was to create further empathy between people from different backgrounds through the medium of authentic storytelling.
We sat down with her to chat about her vision for the project, the publishing process, and what advice she has for her younger self.
What sparked the initial idea for this book?
I am a proud feminist and believe in empowering everyone to unshackle their lives from gendered expectations. Having actively defied most expectations of a traditional Indian woman, I know first-hand how freeing yet difficult the process of empowerment is. However, the version of feminism that I saw in popular media was shallow, aggressive, and polarizing. In 2020, an Indian series was released that was originally created to share women's stories but, in an attempt to gain the attention of the mass media, ended up depicting hyper-glamorized, exaggerated, and polarizing stories of women. I could not relate to the stories of these women, and when I discussed it with my friends, they too shared the same frustration of not seeing their real stories depicted in popular media. One negative repercussion of the series was that it further polarized an already divided society, and most importantly, it further distracted from the real stories, challenges, and struggles that women face in our gendered society.
As a passionate, ambitious, and stereotype-defying woman, I have faced and continue to face a lot of struggles to have a seat on the table, to have my voice heard, and to be treated with respect. We are all socialized by societies whose rules were formed by a select few, and in my perspective, the only way we can break through these societal barriers is by encouraging empathy by sharing honest, authentic, and vulnerable stories so that people realize that we are all more similar than different. Therefore, I decided to take things into my own hands and gathered friends, and friends of friends, to write honest, authentic, and vulnerable stories of what it really means to be a 20-something-year-old woman. The book is a collection of individual unnamed stories of each woman navigating career, love and sexuality, beauty standards, and the highs and lows of the journey we call life. The group consists of six diverse women who are extraordinarily ordinary, who have lived in more than eight countries and countless cities, have studied in India, the USA, the UK, and France, and have worked in the corporate, not-for-profit, and government sectors.
Can you tell us a bit more about the process? How did you connect with all of these women? What were some of the challenges or barriers you came up against between ideation and publication?
The vision of the project was to create a thought-provoking book that evoked empathy by sharing honest, vulnerable, and authentic stories. We were able to achieve this by creating a process that was inclusive, empowering, encouraging, and grounded in reflection. The biggest challenge was that we were all non-writers who were trapped in different geographies (and time zones!) and were juggling the intense demands of our "normal" lives during the pandemic, in addition to writing the book. However, we all shared a common vision and that gave us the fuel to sustain our fire for three long years.
To overcome these challenges and empower a group of diverse, non-writer acquaintances to write honest, vulnerable, and effective stories, I created a process that instilled ownership, normalized learning, and above all, created a space of belongingness. To encourage ownership, I actively incorporated the team's input on our overall project goal and aspirations, to give their respective ambitions a platform. This collaborative problem-solving united everyone on a common path and enriched my original vision.
Additionally, I created meaningful opportunities for contribution, in addition to writing, for all the group members, based on their individual interests, skills, and strengths. For example, a subset of us participated in writing workshops and trained the entire team on effective storytelling, a subset with strong grammatical skills chose to edit the manuscript, etc.
To normalize learning, I instituted multiple problem-solving sessions in the process so that we would be able to discuss all aspects of our stories and receive and share feedback from our individual and diverse perspectives. We leveraged the wisdom and opinion of the crowd of writers to create stories that were easy to understand across cultures and were impactfully written. Each story has gone through at least five rounds of revisions, and each team member has given feedback on each story included in the book.
Creating a positive space of belongingness was the most important yet one of the most difficult tasks. Being a minority in traditional corporate settings has taught me that diversity does not always translate to inclusiveness. Hence, I designed dedicated, non-output time to build a community in which everyone was encouraged to be vulnerable, honest, and supportive. The strength of this comfort enabled our stories to be more thoughtful and vulnerable. We witnessed multiple life events during the past three years including graduate school acceptances/failures, marriages, birthdays, anniversaries, job changes, and mental health episodes, in addition to dealing with the stresses of Covid-19 but we had never felt more supported. We have only interacted virtually, but our bonds are as strong as steel.
Was jumping into this space outside your comfort zone? Did you feel any imposter syndrome during the process and, if so, how did you handle it?
100%. Overcoming external challenges was a lot easier than identifying and overcoming internal challenges, such as dealing with imposter syndrome—individually as a writer and as a leader. The majority of the writers come from a natural or social science background with limited to no previous experience in creative writing. We all had doubts about our writing abilities and even doubted that anyone would be interested in reading our stories. It was uncomfortable to actively think about our most vulnerable moments, and to have the courage to relive those moments while writing our stories, and knowing that our friends, family, and strangers will read about intimate details of our lives. Despite these challenges, the hope that sharing our stories could inspire others, and make them feel like they were not alone gave us the courage to overcome our fears and challenges. Additionally, I am very grateful for the wonderful team of women who supported each other by sharing constructive feedback with kindness, encouraged each other to become the best version of their writer-selves, and created a safe space for everyone to experiment to grow.
This was my first experience leading a project end to end. It was especially challenging because I was leading in a space that was not in my comfort zone and managing my peers and friends. It was an important learning experience that taught me three key lessons:
The most important "make-or-break" factor of any project is the team you choose.
Perfectionism is the biggest barrier to taking risks and achieving dreams.
A successful leader must have the courage to make difficult yet important decisions and balance efficiency and kindness to convert their vision into reality.
I am extremely grateful for the team I had that helped ease many roadblocks we faced on our path, and for my incredibly supportive family who have always believed in me more than I have.
What surprised you most about the publishing process?
How difficult it is, and how broken the publishing process is! There are so many people who have great stories to share but don't have the right network or resources to help them shine. Unless you are a celebrity or influential figure, it is really hard to get in contact with the right people. The most important thing in publishing is to market yourself unapologetically, and to be patient to persevere through multiple rejections and setbacks.
What does "authentic storytelling" mean to you?
Authentic storytelling is storytelling that is uncensored, reflective, and vulnerable so that the stories and characters leap out of the page as real human beings, raw and beautifully flawed.
"Authentic storytelling is storytelling that is uncensored, reflective, and vulnerable so that the stories and characters leap out of the page as real human beings, raw and beautifully flawed."
Sometimes when you look at yourself in the mirror your perspective is clouded by your opinions and thoughts about yourself, and having an independent perspective from someone else who is looking at the same image can help you see a better image of yourself. We had the benefit of having a group of friends, or acquaintances-turned-friends, who had lived through the experiences we were writing about to be able to push each other to share incidents from a balanced perspective. We were each other's independent eyes, holding each other accountable for sharing our authentic stories.
One section of the book is "Letters to Our Younger Selves." What would you say to your younger self?
I would reiterate the lessons I shared to my younger self in the book but updated based on lessons learned in business school:
Approach life from an abundance mindset and not a scarcity mindset (best piece of advice shared with me by a fellow T'24), to take intelligent risks, and to push yourself out of your comfort zone in order to learn and get closer to achieving your dreams, however crazy or unattainable they might seem. No one is successful overnight, it takes a lot of time, effort, and experimentation. Hence the only way we can actually learn and learn to learn is by adopting a growth mindset, being as comfortable with our mistakes and failures as we are with successes, celebrating small wins, and being comfortable with being uncomfortable.
The definition of success, as with everything in life, is "work in progress." Success is happiness, defined by what you value and prioritize in life, which will change as your context changes. Since the name of the game is change, adopt a growth and positive mindset to make the most out of all the lemons that life throws at you to make lemonade, lemon dessert, or lemon candy.
Surround yourself with positive, authentic, and empowering people who are committed to helping each other out as wise problem-solvers and pillars of support and encouragement during your shared happy and sad times. Be grateful and unapologetically share your appreciation for your wonderful family and friends.
You cannot operate with an empty tank to be your authentic self and the version of leader you envisage to be, so prioritize self-love, self-care, and invest in your physical, emotional, and mental well-being. Be kind to yourself, because if you are not, you can never truly be kind to others.
Have faith in the universe, and yourself, as it will enable you to be grateful, and grounded during the happy days, and hopeful and positive during the sad days. Life is a collection of random happenstances, and how you make sense of them is in your control. Having faith helps smooth out the rollercoaster ride that is life.
You've mentioned you hope people walk away from this book feeling more empathetic to those around them. As you go about life, where do you see the most amount of empathy and the least? Where can we as humans most improve in this space?
Interestingly, I think we are most empathetic to people who are more similar to us than to people who seem to be different from us. I hypothesize that this is because it is easier to imagine ourselves in the shoes of people who look like us than to imagine ourselves in the shoes of people who seem very different. For example if your shoe size is a 7, you can attempt to fit your foot in a shoe size 6 or 8 but it's much harder to fit your foot in a shoe size 10 or 11.
Authentic storytelling is so important so that we can all be open, honest, and vulnerable with each other to share slivers of life to realize that beneath our superficial differences, we all experience the same basic emotions of happiness, sadness, anger, surprise, disgust, and fear. I really loved the River of Life exercise that we all did during Tuck Launch, as it provides a common language and a safe space to encourage people to share their honest, authentic, and vulnerable stories.
"We can all improve by converting the call-out culture into a call-in culture, giving each other the benefit of the doubt, and taking the courageous step to connect with people who seem different than us in an intentional, vulnerable, and inclusive manner."
We can all improve by converting the call-out culture into a call-in culture, giving each other the benefit of the doubt, and taking the courageous step to take the initiative to connect with people who seem different than us in an intentional, vulnerable, and inclusive manner.
How has your Tuck experience been so far? What advice can you share with prospective MBA students, especially women?
As cliche as it sounds, Tuck has been a transformative experience that I am grateful for every single day, including sunny, rainy, snowy, and gloomy days. Early on during Tuck Launch, Professor Finkelstein inspired the foundation of my business school approach by sharing his three takeaways on leadership:
"Change is your friend."
"Learning is your strategy."
"Self-awareness is your superpower."
I took his suggestion of thinking of business school as a laboratory to build a toolkit to create the muscle of learning by embracing failure, adapting to change with a growth mindset, and consistently baking in time and space to reflect to build self-awareness and practice self-love. I have actively put this toolkit to practice by signing up to do things, engaging with people in my unique way, and taking risks outside of my comfort zone. It has not always been rosy, but I am very grateful to have wonderful friends, faculty, and staff along this journey who actively help me problem-solve to help me progress in my journey of becoming my version of an ideal leader. I have cried happy and sad tears with my Tuck friends and we have supported each other through sunny, foggy, and stormy days.
Coming to business school was a conscious decision to invest in myself as a leader, and I am grateful I chose Tuck because of its commitment to co-invest in us to shape us to be wise, decisive, and if I may add "Tuck-nice," leaders who are efficient yet kind and empathetic.
Therefore, my advice to prospective MBA students is to be crystal clear about their intention to attend business school, to choose an institution that will be their partner and enable and empower them to achieve these intentions/vision, and to enter business school with an open mindset to experiment, push beyond perceived limits, and to embrace all the learning opportunities, however difficult they might be.
Most people come to business school to learn but as overachievers struggle to not be the smartest or most talented person in the room. Be comfortable with the knowledge of being a work in progress, learning as much as you would like to teach your peers, and practicing self-love as you go through two years of difficult yet necessary transformation to become the best leader you can imagine.
---
Sunakshi Wadhwa T'24 is originally from Chandigarh, India but has lived in 14 cities across five countries (India, China, USA, Saudi Arabia, Philippines). She graduated from Macalester College (MN, USA) with a B.A. in economics. Post-graduation, she joined McKinsey & Company starting in the Minneapolis office and transitioning into Gurgaon, India office. At McKinsey, she worked across a wide range of industries, including consumer, retail, and banking; across business functions such as strategy, implementation, and due diligence; and across traditional and non-traditional projects like Generation India and McKinsey Global Institute. After McKinsey, Sunakshi joined Southeast Asia's leading e-commerce player, Shopee, in the Philippines. At Tuck Sunakshi is a co-chair of the Tech club and the South Asian Business Association (SABA), and a Next 50 and Non-profit Board fellow.